Overhead garage door or rolling gate?
American Roll Up Door Repair & Installation - Same day repair service in Washington DC
Is it an overhead door or a rolling gate?
If you live in Washington DC, whether you live in Washington DC, in District Of Columbia, District Of Columbia, Maryland or Washington DC, you probably noticed that there are many kinds of gates and doors, and if you ever needed a gate repair in Washington DC, you probably wondered: "Which kind of door I have"?
The term rolling gate or roll up door can be confusing, and not once we receive calls from customer who tell us that they need a rolling gate repair service, when they actually need overhead door repair. We decided to try and help you find the differences between the different doors you can find in Washington DC. If you read this article, and you are still not sure what kind of gate of door you own, you can read the article written by Gate Repair Baltimore which also help to determine if it is a garage door or a rolling gate.
Rolling gate/Roll Up Gate/Roll Gate/Roll Door
This category include all the gates which their movement is up and down (As opposed to gates that are being used by opening and closing horizontally such as the swing gates and the sliding gates). Those gates are usually installed in places like store-front, parking lot entrances, warehouses and more. The advantage of those gates, beside the fact that they are considered to be strong and easy to maintain, is the fact that when they are in open position (When they are rolled up) They barely take any space, except from the rolled gate at the top of the entrance.
The rolling gates comes in few forms such as push up gates, chain operated and electric. They can be made of solid slats, they can have few see-through steal net instead of the solid slots, and they can be entirely made from see through net and more. But the idea that they all have in common is that they work by moving from the floor to the ceiling.
We are including few images bellow to help you better understand the differences:
Solid rolling gate/roll gate/push up gate
Here is an example of gates, that you can see-through even when the gate is closed:
Swing gates and sliding gates
Unlike the rolling gates, the swing and the sliding gates are moving horizontally. They can be moved by hinges, over a track in the ground, or by wheels. Unlike the rolling gates, the swing and the sliding gates need space to allow them to open. They are more common in residential areas, and they include driveway gates, home entrance gates and more. The swing and the sliding gates can be used manually, or with the assistance of an electric opener.
The swing gates can come in different variations and designs, and it is not rare to find swing gates which include beautiful iron works and designs, created especially for the person who own the gate. There are many different ways to install a swing or a sliding gate, and a lot depend on the kind of the gate that you want, and the structure of the area where the gate is supposed to be installed.
Bellow you can see example of a swing gate
Overhead door/Garage door
When it comes to garage doors, or overhead doors, you usually looking at a sectional door (The one-piece doors aren't that popular in Washington DC), which each section is connected with hinges, and the door is connected to rollers which are moving along 2 tracks, each track on each side of the door. The overhead door, which many times being used as the door for garages, sometime called garage doors.
There are commercial overhead doors, residential doors, Aluminum garage doors, glass garage doors, vinyl garage doors, wooden garage doors and more. But it the material that the overhead door is made of, the size or where the door is installed does not matter the fact that it is an overhead door. Now, it possible that you own a garage, and that the garage has a door, but that doesn't necessarily make it an overhead door, there are garages which use an overhead door, but there are also many garages, especially in Washington DC, that use a rolling gate as the door to their garage.
Here is a photo of commercial overhead doors
Here is a photo of residential garage doors
Which one is better for me?
When you are planning to install a new overhead door, or a new rolling gate, there are many things to consider before choosing which one is better for you, a rolling gate or an overhead door. But before you even start thinking, there are places where it will be impossible to install an overhead door, and the rolling gate will be the only option, and vice versa. So before you start thinking which kind of operating system is the best for your new overhead door, or before you decided if to install a solid gate or a see-through gate, first make sure that it is possible to install one of them.
Let's assume that you have the option to install any of the two. You should be asking yourself what is the purpose of the new door or gate? If it is a residential door, you probably prefer the overhead door, which can improve the look of your house, especially if the garage is located at the front of the house.
One more thing to consider is the limitations that may apply in your area. Some neighborhoods in Washington DC may have strict rules regarding garage doors, gates and fences, regarding the color, the height and the design. But a good contractor in your area can easily give you the answer for those questions. American Roll Up Door Repair & Installation offer good articles regarding how to choose the right garage door or the right gate for you.
Safety always come first!
We at American Roll Up Door Repair & Installation, believe that the safety should always come first. Whether it is a broken roll up gate in District Of Columbia, or a garage door service in Washington DC, when there is a problem, it should be repaired, and ignoring the problem will not solve the problem, but more important is that you will put the people who use the gate or the garage door in danger.
A gate or an overhead door shouldn't break so often. And when it was installed by a professional installer, and maintained on time, the gate can easily work for 10-20 years. To understand why a gate or a garage door can be dangerous, we would like to tell you 2 stories, one about a gate problem and one about a garage door problem. We have no wish to scare anyone, but after what we saw during many years of gates repair in Washington DC, we prefer that you will understand the how important it is to address any garage door or gate problem immediately.
A Kid in DC got caught in a moving roll up gate
A gate should work in a perfect way. If it is noisy, barely moving, if there is a broken part, or if something is wrong, it need to be repaired ASAP. As you can read in the following article, a 9 year old child got caught in a moving roll up gate in District Of Columbia, and miraculously was rescued by Washington DC fire department. You can read the full story here, or watch the Video bellow:

Using a broken rolling gate is both risky and will create a bigger damage. The gate is most likely to get stuck soon, and you will be facing a gate which cannot be opened, closed, or which just half way open or closed. Take care of it on time, maintain it on time, and make sure that the gate is always safe for use.
A garage door installer was killed while installing an overhead door
Our garage door serve us sometime on a daily base, and we are used for an overhead door which operate in a perfect and safe way. But what many people do not know, is that a garage door which need to be repaired, which wasn't installed correctly and which in general not safe for use can be dangerous, and even deadly. When you think about it, your overhead door is the largest moving object in your home, and sometime can weight hundreds of pounds.
When you think how much force need to make even the heaviest doors work in a smooth way, and when you think how much tension there is on the spring system, the cables and the door in general, which is only held by 2 tracks, you can easily see how the door can be dangerous.
So just like with the rolling gate, when there is a problem with the garage door, if the spring broke, the safety sensor is damaged, if it make strange noises, not moving smoothly, which make the garage door not safe, we recommend to stop using it, and to contact a garage door company that fix overhead doors in Washington DC.
We include a link to a sad case of an old man who got killed while trying to install a new overhead door.

Can I repair it by myself?
The first thing that most people think is just to try and repair it by themselves. It may seem very simple to push the roller back into the track, or to try and help the roll up gate go up by pushing it from bellow. And to that we say – if your life and your health is important to you, do not do it. No gate repair, whether it is the cost, or the time that you spend waiting for the repairman, worth your health. If you do not know what you are doing, do not do it. A garage door or roll up gate repair is not the pace for experiments, and to try new things.
After that being said, we will say that there some repairs that can be performed in a do-it-yourself way, such as garage door maintenance, safety sensors issues and such. And you can read all about it in the article written by Gate Repair Baltimore MD.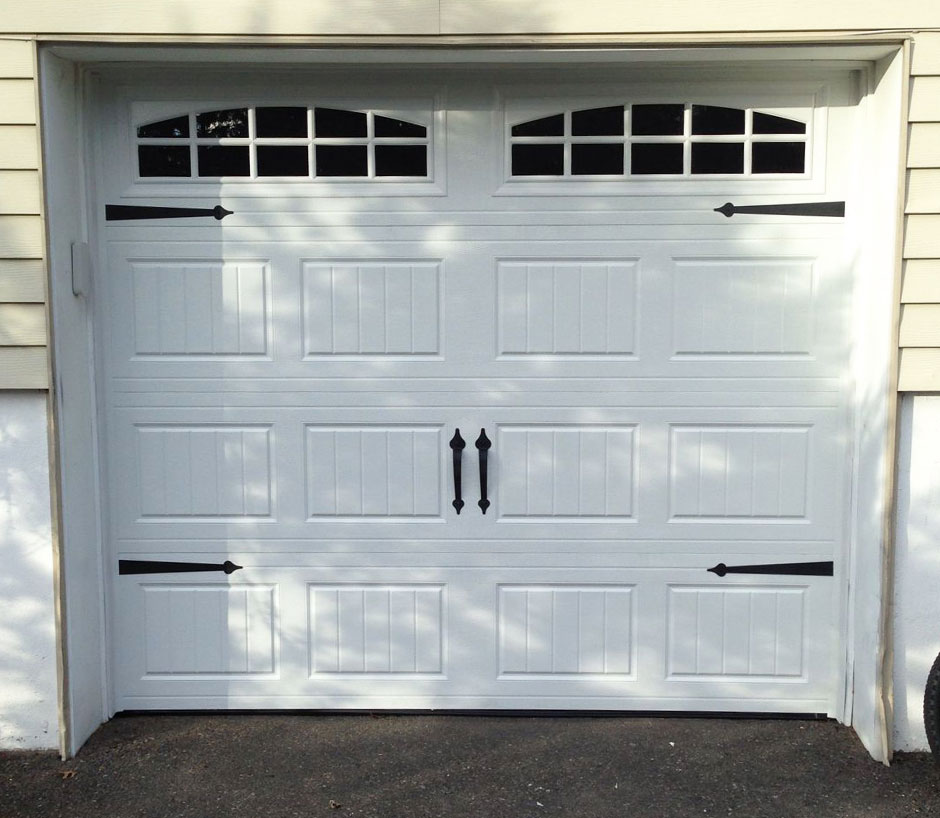 Do you repair rolling gates or overhead garage doors?
American Roll Up Door Repair & Installation repair all kinds of rolling gates and overhead garage doors. The secret for our high quality service is the fact that we can repair commercial and residential garage doors and gates, and we do it with love. When you love what you do, and you love assist people who need their gate to be repaired ASAP, and you are ready to provide them with that service, you will do a good job.
We offer same day service for the following repairs:
Do the overhead doors and roll up gates need maintenance?
Both overhead garage doors and rolling gate need to be maintained. We recommend every 6 months, and the need for maintenance is effected by how often the gate or the gate is being used, the weather at the area where they are installed, how old they are and more.
If you own a residential overhead garage door, you can perform the maintenance by yourself. If you need a commercial rolling gate maintenance, or commercial garage door repair, it is better that you will use the services of a trained technician who know how to perm a professional maintenance, and who also can perform a safety check, to make sure that the gate or the door are safe for use.
If you would like to learn more about do-it-yourself garage door maintenance, you can watch the following Video, which explain how to perform a residential garage door maintenance and tune up. If you prefer to use the services of a gate company in Washington DC, you contact American Roll Up Door Repair & Installation for a same day service in Washington DC. We offer packages and special deals for garage doors and rolling gates maintenance, to ensure that your gate will continue to work just like it did for many years.
Do it yourself maintenance Video:
Where can I see examples of garage doors and gates?
The best example you will find, will be around you. There isn't a neighborhood in Washington DC that you cannot find hundreds of garage doors and gates from all kinds and from different designs. You can look online and see many different garage doors styles, such as Amarr doors, or look at our garage doors and gates gallery, but it will not be the same as see it in real life when it is installed.
When the question is what design or what color, each one got their own opinion, and what you may consider as beautiful, may look different for someone else. So we cannot recommend in terms of designs, but we will tell you that the options are limitless. But what we can do is to recommend to you to invest in quality. If you will purchase high quality garage door or roll gate, you will get in return a door that is going to last for many years (More than 20), but you will also get a strong door that don't require a lot of maintenance, and that will serve you well whenever you are going to need it.
So if you are looking for a cheap and low quality doors or gate, you may consider contact a different roll up doors company in Washington DC (And there are companies that offer low quality doors and gates). Because we will never put our signature on something which is not perfect. And if you do look for a high quality garage door, which will last for many years, contact us for a same day garage doors and rolling gates service in Washington DC.